Are you tired of Snapchat filters overshadowing your true beauty? Want to know how to remove those Snapchat filters and embrace your natural self? Well, you're in luck! In this article, we will provide you with the information to go through some easy and effective ways to remove Snapchat filters and restore your authentic appearance.
Can you Remove a Snapchat Filter?
If you are wondering about removing a Snapchat filter from the photos then hold yourself. YES, it is possible enough to remove the Snapchat filters from your photos. Though, there is no such feature in the Snapchat app you can use other tools, websites, or third-party apps to remove these filters from your saved photos. Each app may have slightly different features and techniques, but they all provide options for editing and retouching photos, including the removal of Snapchat filters.
Disabling Filters in Snapchat Settings
By removing filters in the Snapchat settings, you can have complete control over whether or not filters are applied to your snaps. This ensures that your snaps will always showcase your authentic self, without any surprises from unwanted filters. For those who want to permanently remove Snapchat filters and ensure they never unintentionally use one, there's a solution within Snapchat's settings. Here's how you can do it:
STEP 1:
Open the Snapchat app and tap on your profile icon in the top left corner of the screen.
STEP 2:
On your profile page, tap on the gear icon in the top right corner to access the settings.
STEP 3:
Scroll down to find the "Additional Services" section and select "Manage" under the Filters category.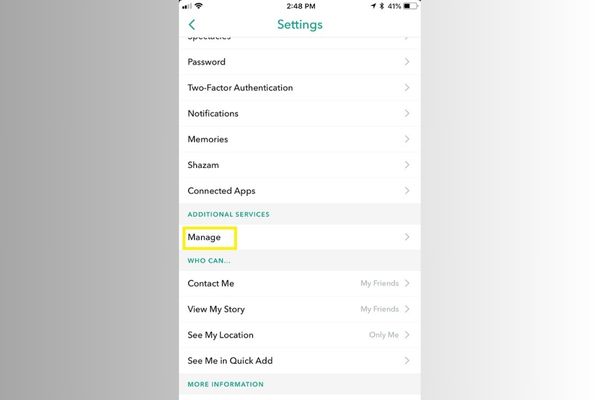 STEP 4:
Toggle off the "Filters" option to disable all filters from appearing on your snaps.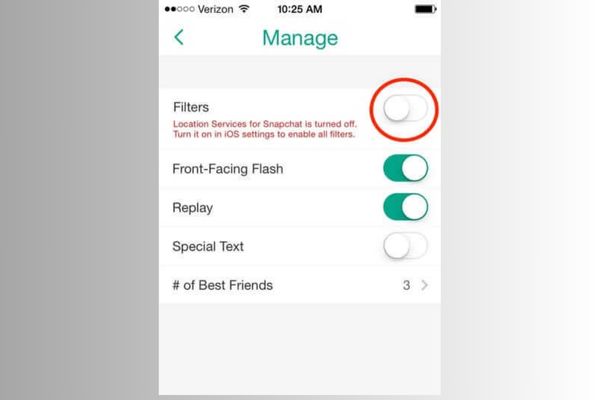 Tools to Remove Snapchat Filters from Saved Photos
These tools basically keep you away from the artificial world and make your photos how they originally look like. Our comprehensive guide will help you out in removing Snapchat filters from your photos on Snapchat by basic steps. Sit back and have a look!
Some of the tools for removing Snapchat filters from saved photos are:
1. Unwanted Object Remover
The application allows you to edit photos as well as erase unwanted objects from your pictures. It can remove all those filters that hide your true picture with artificial beauty such as dog ears and tongue, stars and hearts over your head, etc without any obstacles. It also helps in removing watermarks from your photos if there are any.
2. Snapseed
Snapseed is another popular app that removes the Snapchat filter from photos quickly and with much ease. This app is used worldwide as it is one of the most powerful and multifunctional apps that edit and alter images with advanced photo editing features. Let's see how it works in removing Snapchat filters –
First of all, download the Snapseed app from the Play Store or App Store
Now, launch the app and upload the photo on Snapseed from which you want to remove the Snapchat filter
Start using various tools to remove flaws, effects, filters, and other unwanted elements.
Lastly, you will get the final image without filters.
3. Photo Retouch
You can easily remove unwanted elements like filters, stickers, etc from your Snapchat photo. Photo Retouch has several functions along with removing filters from the photos which includes face editing like removing pimples, wrinkles, spots on the skin, and much more.
4. Snapchat Magic Eraser
Snapchat Magic eraser is the app's feature whose work is to basically erase unwanted stuff from the photo after capturing it. Here's how you can use this feature on the app itself:
Open the Snapchat app.
Capture a picture and then tap on the scissor icon present at the top right along with other editing options.
Now, select the stars icon which is the Magic Eraser.
After selecting it, paint on the item you wish to remove.
Here is your final picture.
Read More: Unlink Your Phone Number from Snapchat
How to Remove Snapchat Stickers from Saved Pictures
Do you have such a photo in your Snapchat gallery from which you want to remove or delete Snapchat stickers that you don't like at all? Don't worry, we've a solution for your query. Removing Snapchat stickers from saved photos is possible through the step by step process described below:
STEP 1:
Firstly, Launch the Snapchat App and go to the Memories section.
STEP 2:
Tap on the image you want to remove stickers from.
STEP 3:
Tap on the top-right three-dot icon to view more options.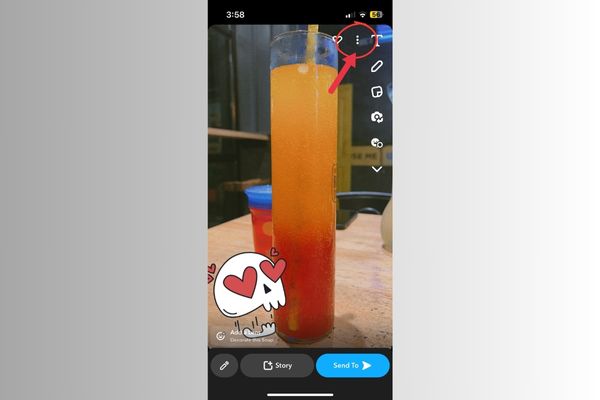 STEP 4:
Tap on the Edit Snap option.
STEP 5:
Tap on the Sticker on the Photo to select. Hold it and drag it to the Trash bin option highlighted in the centre-bottom of the screen.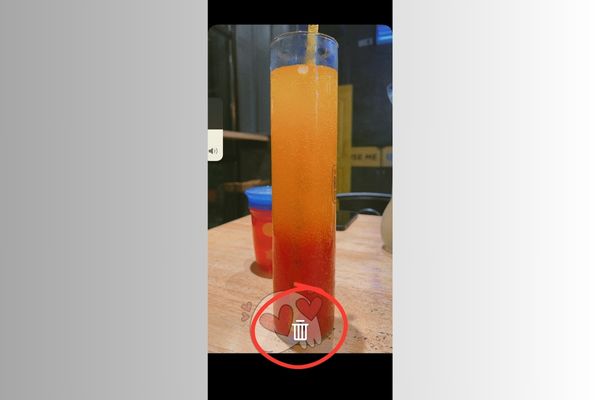 STEP 6:
Repeat this for more stickers, and you will end up with a sticker-free Image.
FAQs
Here are some frequently asked questions (FAQs) about removing Snapchat filters:
Q1: Can I remove Snapchat filters from a photo after it has been saved?
A1: Yes, you can remove Snapchat filters from a saved photo using the Snapchat app itself or by using third-party photo editing apps.
Q2: Is it possible to remove Snapchat filters from a video?
A2: The process of removing Snapchat filters from a saved video is similar to removing filters from a photo. You can use the Snapchat app or third-party editing apps to edit and remove filters from videos.
Q3: Will removing a Snapchat filter affect the quality of the photo?
A3: When you remove a Snapchat filter, the quality of the photo remains the same. The filter is simply overlaying an effect on top of the original image, and removing it will restore the unfiltered version.
Q4: Can I remove a Snapchat filter from a photo that has been shared with others?
A4: Unfortunately, once you have shared a photo with a Snapchat filter applied, you cannot remove the filter from the version that others have received or saved. You can only remove the filter from your own copy of the photo.
Q5: Are there any other methods to remove Snapchat filters?
A5: The methods mentioned in this article are the most common and effective ways to remove Snapchat filters. However, new features or options may be introduced by Snapchat in the future. So it's always a good idea to stay updated with the latest app updates and features.
Q6: Will removing Snapchat filters also remove any additional edits made to the photo?
A6: Removing a Snapchat filter will only remove the filter itself. No additional edits or modifications you may have made to the photo. The filter removal process focuses specifically on removing the overlay effect applied by the filter.
Conclusion
Removing Snapchat filters from both saved photos and videos is a relatively straightforward process. Whether you choose to use the Snapchat app itself or rely on third-party photo editing apps. You have the power to restore your authentic appearance and preserve your memories without the interference of filters.
By tapping and holding on the screen, swiping to select a different filter, or disabling filters in the Snapchat settings. You can easily remove unwanted filters while using the app. Additionally, using popular third-party editing apps such as Snapseed, Adobe Photoshop Express, or PicsArt provides alternative options for removing filters and enhancing your photos.
While it's important to embrace the fun and creativity that Snapchat filters bring. It's equally important to have the freedom to showcase your natural self when desired. Whether you're removing filters from saved photos or sharing unfiltered moments. These methods ensure that you have control over the appearance of your snaps.
So, go ahead and explore the methods described in this article to remove Snapchat filters from your saved photos and videos. Remember, you have the power to let your true beauty shine through. Capturing and preserving memories just the way you want them. Happy snapping!
You May Also Like