So, you've found yourself in trouble – your beloved Instagram account has been disabled by Instagram itself right? But don't worry, because we're here to help you navigate the process of recovering or reactivating your account and returning to the game! An Instagram account can be disabled by the platform for various reasons which include violating Instagram's community guidelines, repeatedly engaging in spammy behavior, or using automation tools that breach their terms of service.
If you recently disabled your Instagram account and now want it back for some reason then it's your chance! Get your Instagram world back on track. But remember, in order to reactivate your account you should wait until 24 hours after disabling it as mentioned under Instagram's Policies. You cannot reactivate your account immediately after disabling it.
In this blog, we'll walk you through the ins and outs of reactivating an Instagram account disabled by Instagram. Let's dive in and get your profile back to sharing photos, and stories, and connecting with your online community in no time!
Reactivating a Disabled Instagram Account – Steps
Reactivating your disabled Instagram account may require some effort and patience. Follow these steps to start the reactivation process:
Step 1:
Download and install the Instagram application on your Android or iOS device in case you have deleted the app.
Step 2:
Now, open the application and you'll see the login screen with empty fields.
Step 3:
There you need to enter your username and password of the account that you have disabled. In case you have forgotten your password, click on "Forgot your Password" and reset the new password by following further instructions.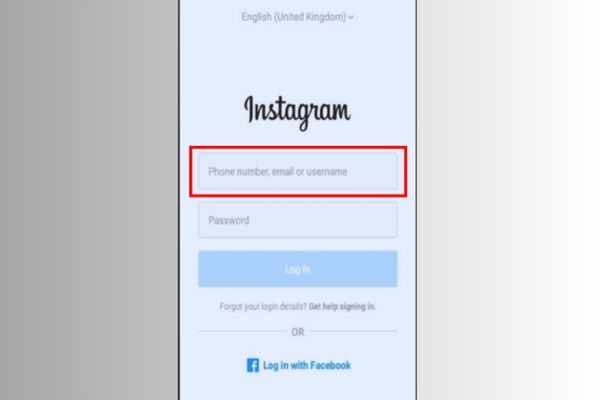 Step 4:
Now, tap on Login and your account will be restored back to its earlier state.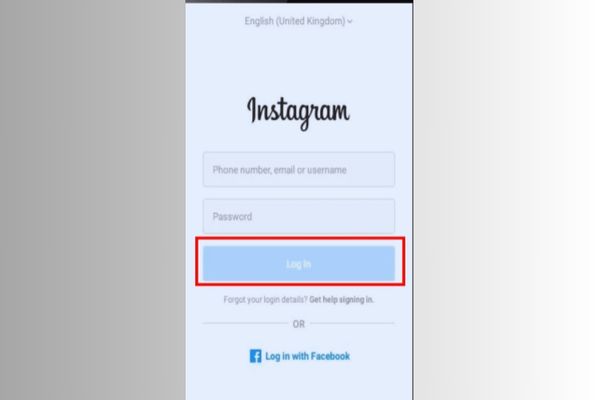 Step 5:
Here, follow the On-screen Instructions. You may have to agree to the Terms & conditions or verify your phone number before you can proceed next to your account.
Can I Reactivate My Instagram Account if it is Permanently Deleted?
Here, the answer is NO. if you have permanently deleted your Instagram account then you cannot retrieve it. It is stated by the company that when you permanently delete your account, it takes up to 90 days to completely remove it from Instagram. It means you can still reactivate your account within 30 days after deleting it. But after that all your information including photos, videos, comments, likes, and followers will be permanently removed and your account will be erased from Instagram's Database.
Read More: Geotagging on Instagram
How to Appeal a Disabled Account on Instagram?
Step 1: Verify that your Instagram account is suspended
Open the Instagram app and try logging in.
If you see a message that says "Your account has been disabled" after Logging in, then Instagram has disabled your account for violating its Terms & Conditions.
If you see an error message like "Incorrect password or username" then it does not mean that your account is disabled.
Step 2: Open the Instagram appeal form in your web browser
Go to "https://help.instagram.com/contact/606967319425038" in any browser. You can access this form on a PC, Android device, Mac, or iOS device.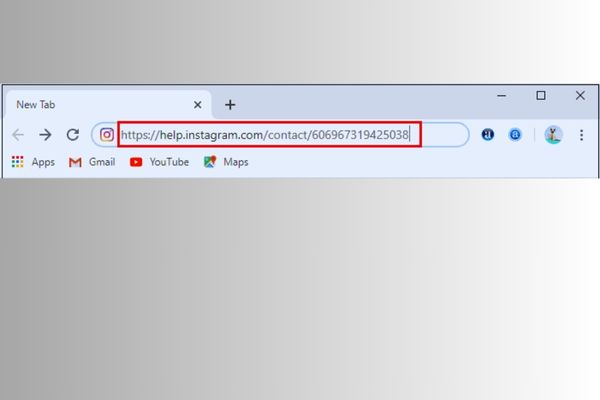 Step 3: Enter your Personal Information
In the form, you'll need to provide some necessary details like your full name, Instagram username, and your current email address and phone number.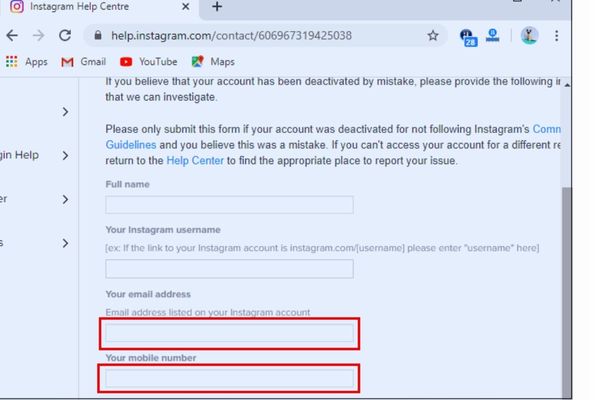 Step 4: Enter your Appeal Request
Now, type in a brief message explaining why you think your account should not be deactivated or deleted. While typing the appeal you should keep some points in mind which are:
Be polite and respectful in your communication with Instagram.
Stick to the facts and avoid being confrontational or aggressive.
If you believe your account was disabled due to a mistake, clarify any misunderstandings in your appeal.
Don't use any third-party services claiming to help you reactivate your account, as they could potentially be scams.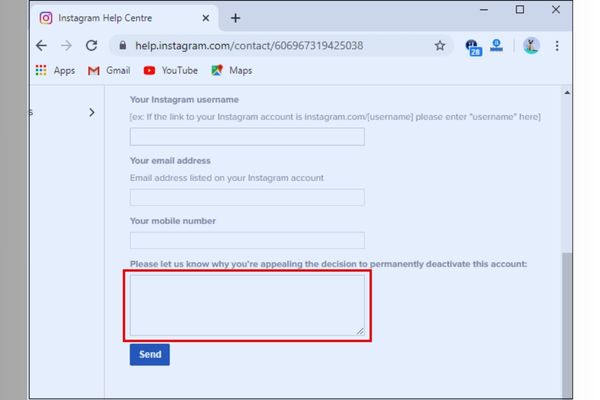 Step 5: Click "Send"
Your appeal will be sent to Instagram after clicking "Send". Also, note that you can send this appeal several times a day until they reach a solution.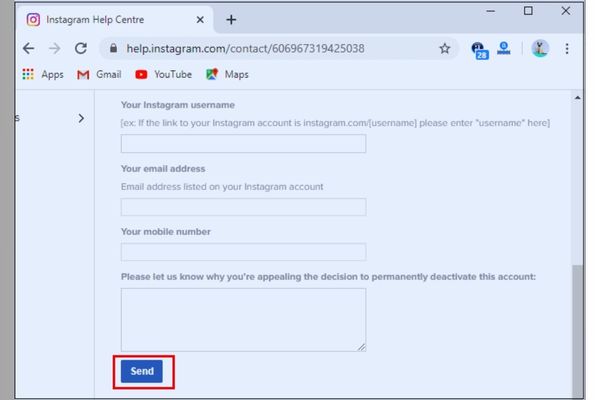 Reasons Why Instagram is Disabling My Account
Violation of Community Guidelines:
Instagram has strict community guidelines that users must adhere to. These guidelines cover various aspects, including posting inappropriate content, harassment, hate speech, nudity, violence, and spam.
Intellectual Property Violations:
If you repeatedly post content that infringes on someone else's intellectual property rights (such as using copyrighted images or videos without permission), your account could be disabled.
Fake or Impersonating Accounts:
Creating accounts with fake names, impersonating others, or using someone else's identity without permission violates Instagram's policies.
Excessive Spam or Bot-Like Behaviour:
Engaging in spammy activities, using automated bots, or participating in aggressive follow/unfollow tactics can lead to account suspension.
Mass Following or Unfollowing:
Rapidly following and unfollowing large numbers of accounts in a short period can trigger Instagram's anti-spam algorithms and result in an account suspension.
Posting Inappropriate Content:
Sharing explicit, violent, or otherwise inappropriate content can lead to account suspension.
Use of Third-Party Apps:
Using unauthorized third-party apps or services that violate Instagram's terms of service can result in account disabling.
Phishing or Scamming:
Engaging in phishing attempts or scamming activities violates Instagram's policies and can lead to account suspension.
FAQs
Q: What information should I include in my appeal to reactivate my Instagram account?
A: In your appeal, provide relevant and concise information. Be polite and honest, and avoid being confrontational.
Q: How long does it take for Instagram to respond to my appeal?
A: Instagram's review process can vary in duration. It may take several days to receive a response, so it's essential to be patient during this time.
Q: Can I contact Instagram support to resolve the issue of a disabled account?
A: If you encounter any issues with your disabled Instagram account or have questions about the appeal process, you can reach out to Instagram support through their official help center or support channels.
Q: What should I do if my appeal to reactivate my Instagram account is denied?
A: If your appeal is denied, there is little else you can do to reactivate the same account. You may consider creating a new Instagram account and ensuring compliance with Instagram's community guidelines and terms of service to avoid future account issues.
Conclusion
Reactivating your Instagram account is a challenging experience. We hope that this guide provided you with all the valuable insights and steps to help you reactivate your account successfully. Remember to be patient throughout the process, as reactivating a disabled account may take time. Take the necessary precautions to prevent future disablements and enjoy using Instagram responsibly and within the platform's guidelines.
You may also like: